2009 USA Volleyball
Dr. Neville A. "Doc" Booth
Commissioner's Award
Donise King
This award recognizes individuals who have made significant contributions to volleyball and USA Volleyball through the office of regional commissioner and/or as vice president of the Regional Operations Division and/or chair of the Regional Volleyball Association Assembly.
Named in honor of Dr. Neville A. "Doc" Booth, the first USA Volleyball commissioner of regions and former commissioner of Region 1, now known as the New England Regional Volleyball Association.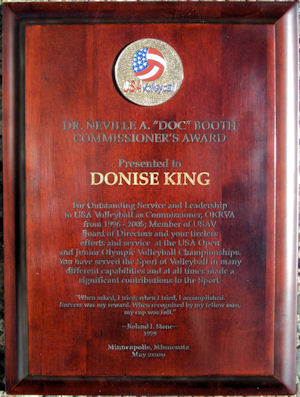 Presented for outstanding service and leadership to USA Volleyball as Commissioner, OKRVA from 1996 - 2005, member of USAV Board of Directors and your tireless efforts and service at the USA Open and Junior Olympic Volleyball Championships. You have served the sport of volleyball in many different capabilities and at all times made a significant contribution to the sport.